NELA returns with fresh drive from IFRA World Publishing Expo in Berlin
NELA returns with fresh drive from IFRA World Publishing Expo in Berlin
08.01.2019
Lahr, Germany, October 2018 – In spite of overall sinking visitor numbers, NELA is content with the outcome of this year's IFRA World Publishing Expo. Having signed orders for a total of six register punching and bending systems and a comprehensive plate sorting system, Martin Haselbach, NELA's Sales Manager Graphic Systems, draws a positive picture of the show.  
The six Ecobender-V register punching and bending systems will be delivered to India to The Mathrubhumi Printing & Publishing Co. Ltd. Sold through Krause India, the systems will be installed in-line with Krause Ctp's at 5 different print sites. It is NELA's first order with the group who owns a total of 14 print locations, among them sites in Chennai, Mumbai, and New Delhi. Thanks to the long-term partnership with Krause India, NELA was able to close the deal with The Mathrubhumi during the show by handshake after just a short project planning period.
Ecobender-V was specifically designed by NELA to cater to the needs of newspaper printers. It features the proven optical plate registration with high-resolution digital cameras. With a throughput of up to 200 plates per hour and a broad range of optional add-ons, Ecobender-V is the ideal basis for the automation of the plate production.
Our picture shows NELA R.P. Nargis (Krause India), NELA President Frank Neumeister, M.V. Shreyams Kumar (The Mathrubhumi), Deepak Nargis (Krause India) and Martin Haselbach (NELA Sales Manager Graphic Systems) left to right on the NELA booth.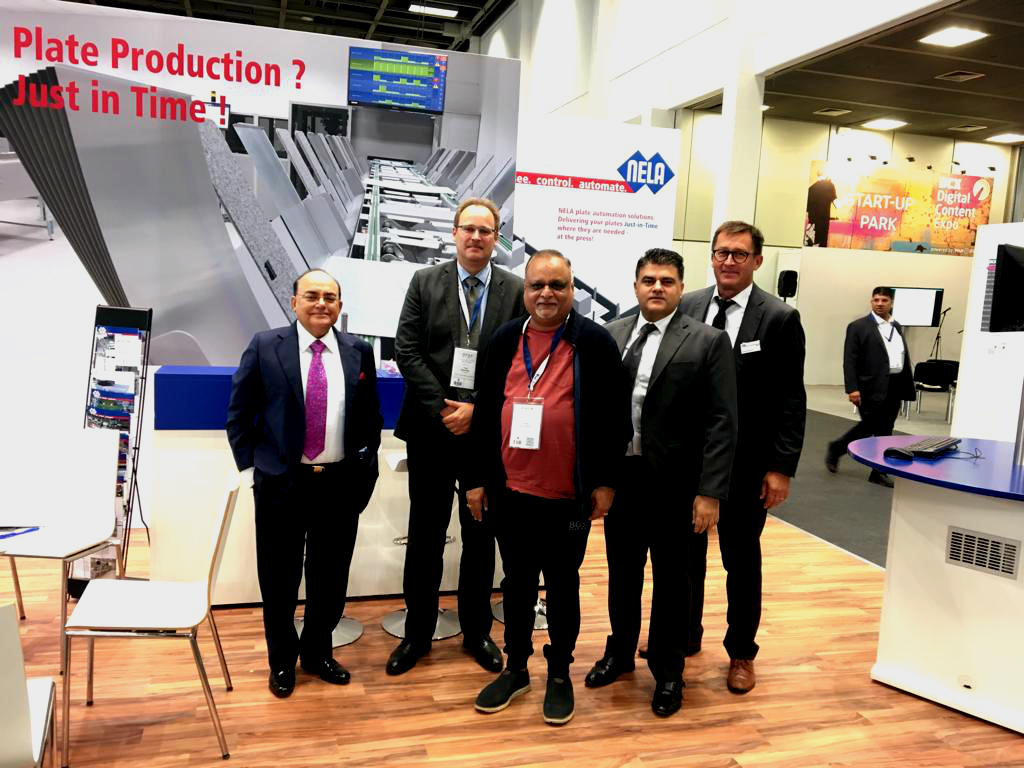 The next step towards fully automated plate production has now been taken by Ostsee-Zeitung of north-eastern Germany, who came to the show to sign the order for a 20-position plate sorter. In this sorter, press-ready plates for the two press towers will be sorted and supplied just in time for the next job. A large computer screen makes it easy for staff to find the right plates and to see whether the job is complete. When plates are taken out of the stacker, the empty bins are immediately assigned to the next job in line.
The plate sorter will be installed in-line with an existing Ctp-line with two NELA VCPevolution register punching and bending systems. At the same time, the controllers of the existing plate conveyors will be upgraded from Festo to Siemens to ascertain uptime and availability of the entire system for years to come.
Prior to signing the order, a capacity calculation was made to define the final size of the plate sorter. Architectural conditions on site presented a real challenge in this project, which, in the end, could be resolved with a great deal of flexibility and creativity on both sides.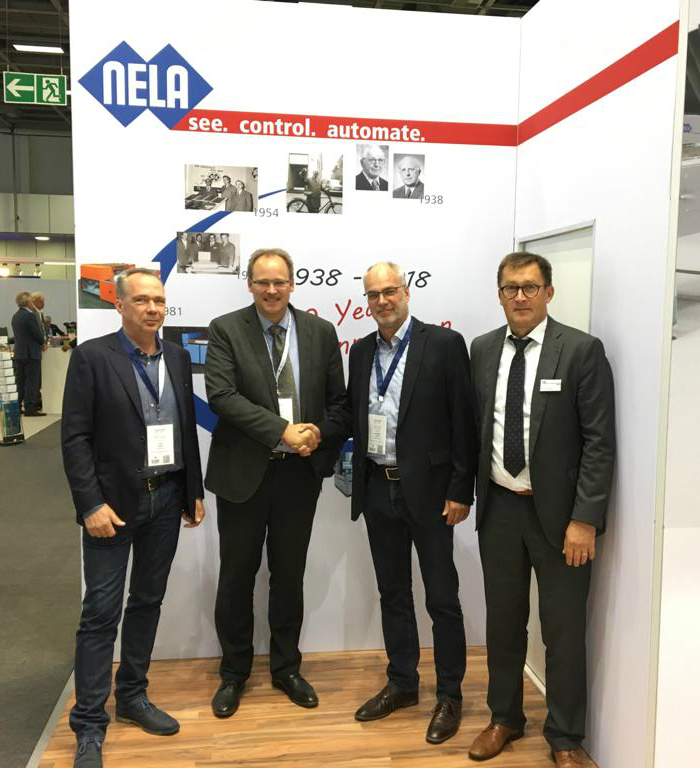 Left to right: Peter Diebow, Production Manager Ostsee-Zeitung, Frank Neumeister, Sven-Sören Ulrich, Technical Director Ostsee-Zeitung, Martin Haselbach on the NELA booth