Plate Handling Solution at Geoff Neil Group
Plate Handling Solution at Geoff Neil Group
21.01.2021
Direct-to-Plate Ltd (DtP) having supplied and Installed an Automated Plate Handling System from Bruder Neumeister (Nela) in November 2019 in conjunction with Kodak.
The automated system is designed to process plates for the company's two printing presses, a Heidelberg XL106 6LX and a Heidelberg XL106 5LX.
The MAGNUS Q800 Platesetter and a Kodak Multi-Pallet Loader (MPL), installed by Kodak, which operates in tandem with the new Nela automated plate bending and transport system, forming a fully-automated plate production line delivering up to seventy plates per hour. The plates are then transported to their designated sortation unit and placed on to a plate trolley ready for transporting to the relevant Printing Press, this adds to the level of Automation within the group, therefore the company can now operate and run their Pre-Press department unmanned.
Since the Installation, Geoff Neal have produced in excess of 41,000 plates even through the covid-19 pandemic using the Nela Automatic Plate Handling System, with 2 different plate formats. For all production jobs, the information is linked to Geoff Neal's MIS and is picked up by a barcode system which makes sure the plates go into the correct sortation trolley and informs the Pre-press operators when all plates are ready for collection by the Press Minders.
Geoff Neal Group started along the automation path with the adoption of a JDF workflow in 2019, along with new high-speed finishing equipment. The next stage began with a hard look - touchpoint-by-touchpoint - at how plates were produced and delivered to the pressroom. The task fell to Head of Repro & Integration Steve Anderson who, looking back and contrasting now with then, describes the process as "crazy - there were just so many touchpoints!"
The new plate room is located adjacent to the Heidelberg XL-106's, in a space vacated by the departure of a Heidelberg Anicolor press. Compared to what went before, says Anderson, the environment is "vibrant - a showpiece, and a statement to customers about where we are, and want to be." After plate imaging is launched, the process is totally automated and virtually unmanned. Jobs can also be monitored and managed remotely.
Vital choice
Deciding to automate was one thing, but choosing the right supplier was just as vital. "This is a big step for us. We're investing in more than new equipment - we're committing to a fundamental change in how we do almost everything. By going with Nela & Direct to Plate and Kodak, we know we're forging a long-term partnership that will give us access to continuous innovation, great products, and cutting-edge technology - plus superb build quality and lognevity. It's best-in-class, in my view."
Quote from Mark Croucher Group Manufacturing Director:
To maximise the Groups investment in the latest generation of XL106, push to stop presses, we analysed the limiting factors that were holding back further efficiencies. It soon became very apparent that driving 2,000 make readies a month, plate output, transfer and manual handling was a major bottleneck/cost to the business. Therefore, we evaluated the process back to the basics from receipt of plates, loading, output speed, screening options etc. Resulting in seamless production, scheduling and plate pilot solutions. By having the best in class output device, aligned to Nela plate automation, ease of handling and distribution within the press hall has given us the ultimate solution which we are extremely proud.
Customers are amazed at the speed and quality, press crews love it, moving 80 plates a time. No handling, no bending just load and run.
This is just one of the many changes automation, augmentation of process JDF/JMF workflows are bringing to the industry, so embrace and change or ignore at your peril as this is a game changer for any business.
This article was written and published by our partner Direct to Plate (d-t-p) Limited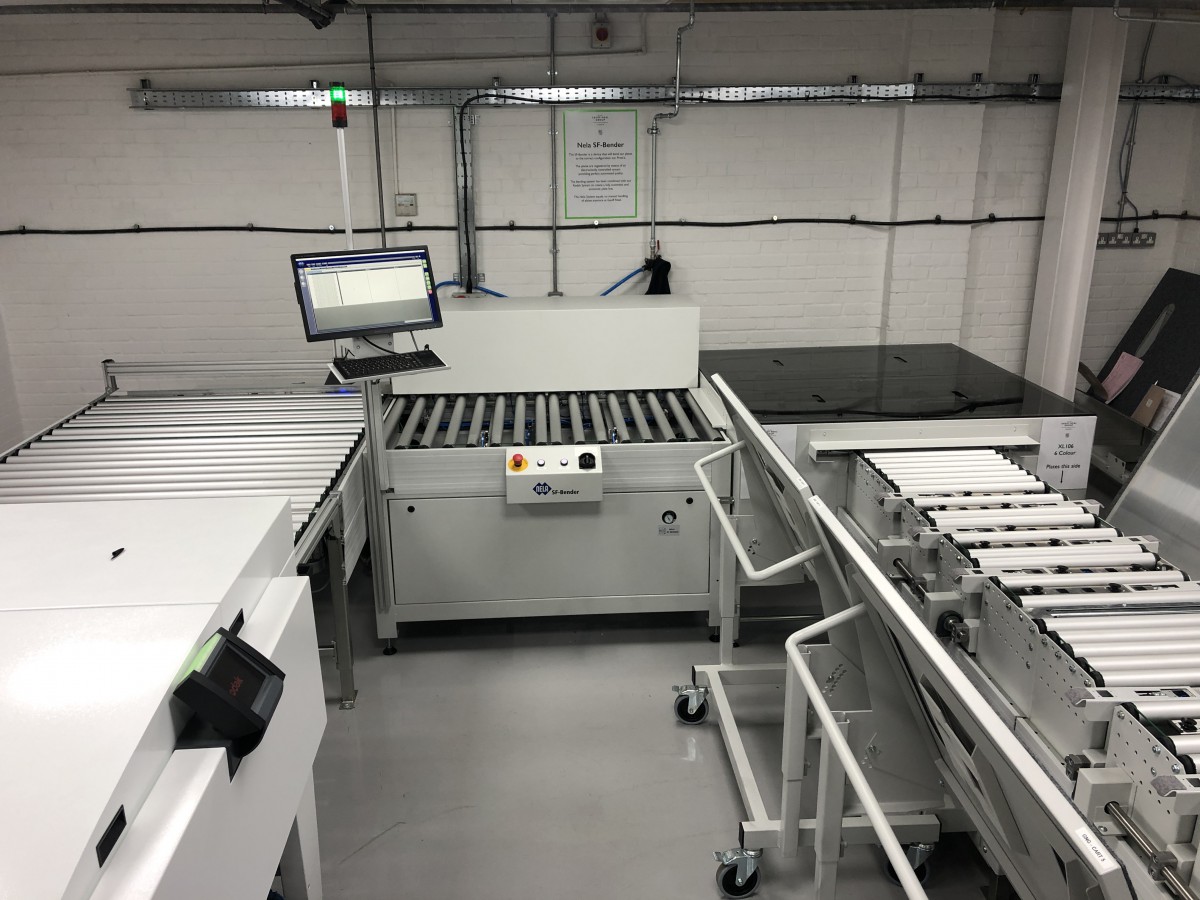 NELA SF-Bender with plate sorting at Geoff Neal Group
(photos courtesy of Geoff Neal Group)