Glass table inspection system with/without turn over function
Glass table inspection system with/without turn over function
Glass table-based inspection systems are perfectly suited for a fully automatic and non-destructive geometrical and defect inspection, thread inspection, and classification of serial parts for a broad range of applications. Since glass tables guarantee a very stable inspection and measurement process, these systems are recommended for sophisticated inspection tasks with tight tolerances or complex geometries.
Technical information at a glance:
Dimensional check and defect inspection on all surfaces (top, bottom, lateral)
Equipped with 5 to 9 customer-specific sensor units
Throughput up to 100.000 parts per hour (TAVI-XL)
Optimized for part sizes from OD 1mm - 80mm (TAVI-XL up to 120mm)
Measuring accuracy from ± 1μm 
Sorting of inspected parts into up to 8 sorting channels
Robust machine design and use of high-quality technical components
Powerful multi-core processors for very high inspection speeds 
Closed design for maximum cleanliness inside the inspection system; this is a requirement for many applications in the medical packaging industry
Glass table calibration and temperature compensation for maximum measurement accuracy
Your advantages in daily production:
Continuous and reliable optical inspection and sorting showing no signs of fatigue
Documented quality including generation of the relevant process data, e.g. statistics for the entire system or individual sensor units, process data acquisition, or status exchange via OPC-UA.
Modular system suited for a large variety of parts with different sizes, shapes, and material characteristics.
100% Inspection
Highly precise measurement and surface quality check in one system, also suited for thread inspection
How do NELA glass table-based inspection systems work?
A feeder which is adapted to shape and material of the parts brings the parts onto a belt where they are separated and moved to the inspection table. Here, the customized inspection and measurement sensors inspect the parts from top, bottom, and laterally. To find even the smallest defects it can be required to turn the parts over and inspect them again from the other side, which is realized on a second inspection table. When the inspection is completed, the parts are sorted via chutes or belts. Depending on the requirements it is also possible to integrate additional components such as box changers or packaging systems.
Glass table inspection systems from NELA are available in the following versions:
TAVI.01 / TAVI.01-XL: inspection system with one glass table, recommended for parts which don't have to be turned over for analysis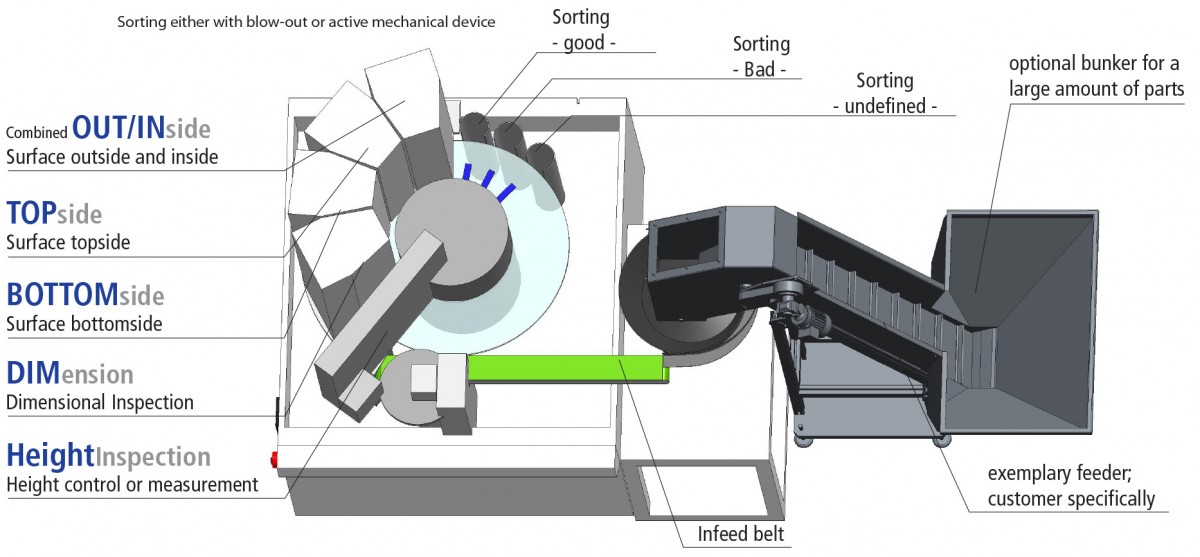 TAVI.02 / TAVI.02-XL: inspection system with two glass tables and turn over station – the perfect solution for parts which must be analyzed from both sides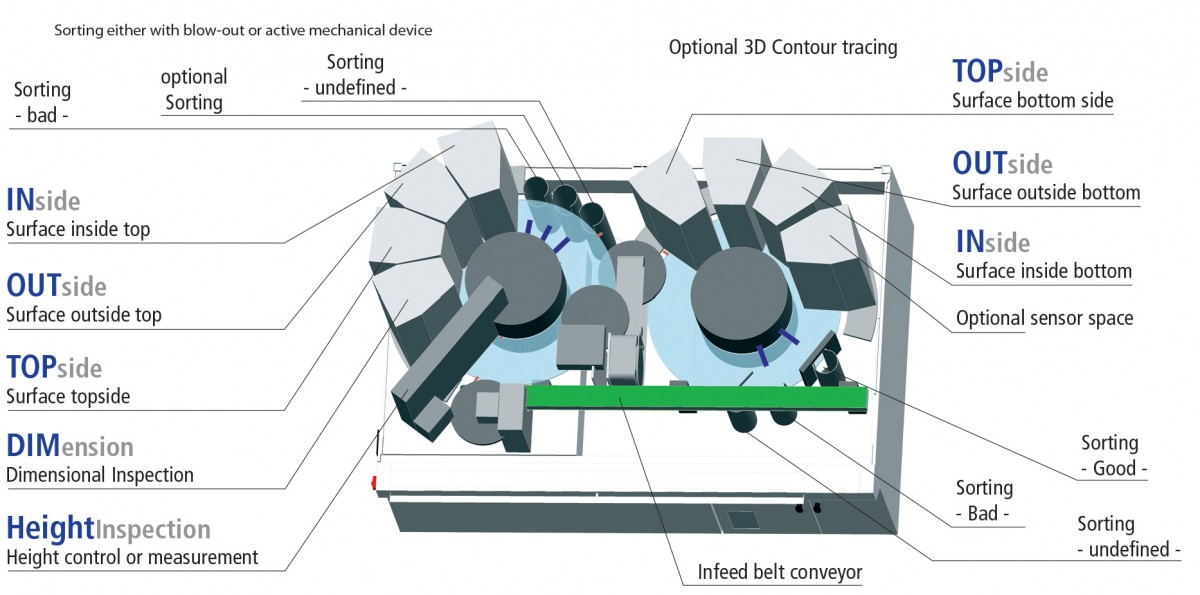 Our sales team is happy to receive your enquiry or call and will recommend the appropriate system for your application, depending on geometry, size, material, and inspection requirements.